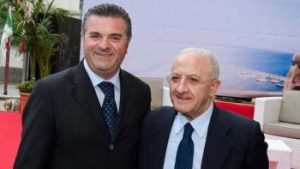 Il consigliere Franco Longo, nell'ultima seduta di Consiglio Comunale tenutasi il 4 ottobre scorso, ha fatto notare al Sindaco Alfieri che nel progetto definitivo del Masterplan Litorale Salerno Sud è previsto un impianto di compostaggio dei rifiuti a Capaccio Paestum, in zona ai confini con Giungano. Il Sindaco Alfieri è rimasto sorpreso dalla cosa, come se non ne fosse a conoscenza. Eppure, sono 3 anni che questo Masterplan è in corso di redazione e Alfieri stesso ne è il responsabile politico e ha presieduto a tutti gli incontri preparatori e consultivi. Il consigliere Enzo Sica vota no al progetto e ricorda una delibera consiliare, votata all'unanimità quando lui era Sindaco, in cui si sancì la volontà che sul territorio comunale non potessero essere realizzati impianti per il trattamento di rifiuti.
IL MASTERPLAN, UNA SORTA DI PUC DI AREA VASTA
La Regione Campania ha approvato il progetto definitivo del Masterplan Programma Integrato di Valorizzazione del Litorale Salerno Sud con Delibera di Giunta regionale n. 426 del 12 luglio 2023. La Delibera programma 20 milioni di euro per la copertura finanziaria dell'avvio degli interventi prioritari del Masterplan e amplia il sistema di Governance, includendo la Provincia di Salerno tramite l'approvazione di un addendum al Protocollo di intesa sottoscritto tra la Regione Campania e i Comuni inclusi nel Masterplan (Capaccio-Paestum, Salerno, Pontecagnano Faiano, Bellizzi, Battipaglia, Eboli, Agropoli, Castellabate) nel novembre 2019. Le risorse sono a valere sul PR FESR Campania 2021/2027 – Obiettivo di Policy V Sviluppo Territoriale Integrato. Il lavoro è stato redatto dal gruppo progettuale aggiudicatario della gara, la RTI -MATE Soc. Cooperativa Capogruppo Mandataria del Costituendo RTI– Studio Silva S.r.l. – FTourism & Marketing di Josep Ejarque – Stefano Boeri Architetti. Il responsabile politico del Masterplan del Litorale Salerno Sud, delegato dal Governatore Vincenzo De Luca, è Franco Alfieri, Sindaco di Capaccio Paestum e Presidente della Provincia di Salerno.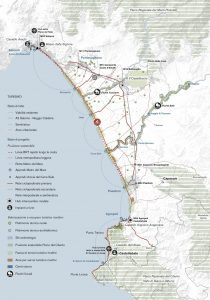 IL REGALO DI ALFIERI
A pag. 74, nella sezione progettuale riguardante "Ambiente – Progetti Strategici", al punto A8.2 è previsto "Impianto di compostaggio in area tra Capaccio e Giungano, ricadente nel territorio di Capaccio Paestum". La politica e i politici del passato, tanto bistrattati dal Sindaco Alfieri, hanno avuto il grande merito e ottenuto il grande risultato di salvaguardare il nostro territorio da discariche e affini. Tutti ricordano la battaglia per il sito di Cannito fatta ad inizio 2000 dal Sindaco Pasquale Marino, al fine di scongiurare l'allocazione, proprio tra Capaccio e Giungano, di una mega discarica in pieno periodo di crisi rifiuti. Oggi, grazie agli interventi effettuati nel 2015 e 2016 dall'Amministrazione guidata dal Sindaco Italo Voza, proprio l'area di Cannito è stata definitivamente bonificata e recuperata sul piano ambientale. E non dimentichiamo, nel 2016, la battaglia popolare fatta per scampare il pericolo della costruzione di una centrale a biomassa (proprio a scarti vegetali) che un privato stava per ubicare in zona Sorvella. Il Sindaco Alfieri, Presidente della Provincia e delegato di De Luca al Masterplan Salerno Sud, ci porta invece in regalo questo impianto che altro non è che un posto dove si porta e sosta la "munnezza". Il tutto in un territorio che dal Masterplan si aspettava ben altro, ovvero infrastrutture, sostenibilità, nuova viabilità, nuovi parchi a tema.
CHE COS'È UN SITO DI COMPOSTAGGIO?
In un impianto di compostaggio si effettua il trattamento della frazione organica dei rifiuti urbani (umido). Insomma: immondizia che viene trasportata in loco, stoccata e lavorata per produrre compost. Gli impianti di compostaggio (biostabilizzazione) prevedono la biossidazione del materiale organico, derivante da raccolta differenziata, mediante uno dei seguenti impianti: biocelle, biocelle in container, platee insufflate coperte oppure biocumuli. Il materiale derivante da questi processi viene successivamente trasferito in un'aia di maturazione e poi spostato in un'area dedicata allo stoccaggio, dove viene ultimato il processo di degradazione.
I RISCHI PER LA SALUTE DEI RESIDENTI
* Marian University e University of North Alabama, esperti in biologia ambientale; Eastern Mennonite University, esperti in sostenibilità ambientale; University Of Wisconsin – Green Bay, esperti in biologia umana.
Gli "effetti collaterali" che all'unanimità vengono affrancati a un impianto di compostaggio sono: produzione di biogas, percolato, odori, emissioni in atmosfera di polveri sottili, odori, scarti e rifiuti, rumori, rischi sanitari, rischi idrogeologici, traffico e inquinamento. Non vanno assolutamente sottovalutati i rischi legati alle emissioni derivanti dall'impianto in questione: gli esperti sottolineano come, per ogni tonnellata di rifiuti in ingresso, il suddetto impianto potrebbe produrre fino a ben 482 kg di anidride carbonica, oltre ad altre sostanze, come ammoniaca e cloro, dei veri e propri veleni per l'organismo umano. E questo se i rifiuti in ingresso fossero ben differenziati. Altrimenti, se presenti residui vitrei, di imballaggio o addirittura residui metallici, l'inquinamento e i rischi per la salute aumenterebbero in maniera spropositata. Inoltre, non va assolutamente trascurato l'incremento del traffico veicolare relativo al trasporto dei rifiuti verso l'impianto e del compost prodotto verso altre destinazioni. In aggiunta, se non trattati adeguatamente, i rifiuti umidi dell'impianto di compostaggio potrebbero generare cattivi odori con conseguenti rischi sia per i lavoratori dell'impianto stesso, sia per i residenti nelle vicinanze dell'impianto provocando quello che tecnicamente viene definito bioaerosol, ovvero lo sprigionamento nell'aria di microorganismi pericolosi per la salute in grado di provocare allergie, asma ed infezioni alle vie respiratorie. Un pool di esperti in materia del californiano "Salk Institute for Biological Studies" afferma che: "Si tratta pur sempre di una discarica e non va dimenticato che emette cattivi odori per i contenuti di materiale organico in putrefazione. Tutto ciò che emana cattivi odori non fa bene alla salute. Non lo si dimentichi mai".
A cura di Carmine Caramante