Un film scialbo, volto ad accattivarsi il pubblico servendosi anche di Maradona. Un cliché fatto di luoghi comuni, neologismi creati ad hoc, un po' di surreale, frasi a effetto e una grande fotografia. Dopo opere originali, Sorrentino da anni si è ormai addentrato in un vortice fatto di "già visto".
È stata la mano di Dio, l'ultimo lavoro di Paolo Sorrentino. È giunto il momento di parlarne, all'alba della sua candidatura agli Oscar come miglior film straniero. Per discutere del film, non si può non fare una piccola cronistoria sullo stesso Sorrentino. La sua evoluzione come regista, da L'uomo in più a Le conseguenze dell'amore passando per L'amico di famiglia. Lavori diversi tra loro, ma riconoscibili nel timbro e nella dinamica, oltre che nell'interprete principe Tony Servillo, a cui è succeduto, per un solo film, Giacomo Rizzo (bravissimo). Dopo questi tre film, Sorrentino ha girato This must be the place, film godibile, non fosse altro per la musica dei Talking Heads e sui generis rispetto agli altri. Sean Penn protagonista e una storia on the road con belle trovate e l'America percorsa a piedi alla ricerca di se stesso. Bene. E arriviamo a La Grande bellezza. Inutile rimestare il grande successo di pubblico, l'Oscar e il resto. Quel che voglio dire è che questo film ha segnato lo spartiacque nel cinema di Sorrentino, il passaggio ad un cliché fatto di luoghi comuni, neologismi creati ad hoc, un po' di surreale, frasi a effetto e una grande fotografia. Ora, tutto questo è stato fatto con un'abilità straordinaria, quasi un prestigio ad ammaliare lo spettatore ma, ad un occhio più attento, non saranno sfuggite le cose che ho elencato prima. La terrazza romana, simbolo della mondanità, le passeggiate sul Tevere, la pletora di personaggi dalla vita devastata, musiche e un serie di lungaggini evitabili. È stata la mano di Dio, a parere di chi vi scrive, è l'esatta copia de La Grande Bellezza, ambientata a Napoli. Intendiamoci, La Grande Bellezza, se lo passano, lo vedi sempre, ma qua parliamo di altro. Dopo quel gran successo si è passati alla santificazione a prescindere di Sorrentino, lodi sperticate, previsioni di secondo Oscar, dato quasi per scontato. Non è così. Il film, ripeto, con un cliché pressoché identico al precedente, è zeppo di luoghi comuni, di dialoghi surreali forzati, di immagini, sapientemente miscelate per colpire lo spettatore medio che è convinto di trovarsi di fronte a un capolavoro perché ha ascoltato qualche frase a effetto. È questa la "magia" che ha fatto Sorrentino. Esempio: cosa non è il dialogo a tavola dove la signora scorbutica mangia la mozzarella, se non la riproposizione del monologo di Servillo sulla terrazza? Cosa non è l'apparizione di Capuano, se non la riproposizione del personaggio a sorpresa, quello che viene arrestato, alla fine de La grande bellezza. Ma ce ne sono tanti. Le solite lungaggini, come la gita a Capri col galeotto che è totalmente fuori contesto, che serve solo a far dire allo stesso "Sai come fanno gli off shore? Tuff…tuff", espressione che il protagonista ripete in carcere quando va via: "Tuff tuff". Che poi è semplicemente lesa maestà, volendo, in maniera oltremodo imprudente, imitare Robert De Niro in Taxy Driver, quando si porta la mano insanguinata alla tempia e dice: "Puff puff" imitando lo sparo. Ma questa è solo un'intuizione che non ha riscontri. L'ossessione per l'organo genitale femminile (prima scena de La grande bellezza; scena baronessa ne È stata la mano di Dio) volgare e superflua. Più una serie di ruffianate che culminano con Napul'è e la visione di munaciello nell'ultima scena. Peggio non si poteva. Però Sorrentino è bravissimo nel propinarlo come storia di vita vissuta e allora tutti gli adorantes a prescindere si fanno scendere la lacrima fino ad osannare il "coraggio non da tutti" nel mettere in scena la sua vita. Detto che, di scrittori, registi, poeti e quant'altro che hanno messo la loro vita nelle loro opere non se ne ha contezza tanti ce ne sono ma, ed è qui che voglio arrivare, sembra che Sorrentino, nella percezione esagerata ed esaltata del pubblico, sia il primo, anzi l'unico, l'eroe senza paura. Quello che si è scatenato dopo la proiezione del film ha pochi precedenti. Gente in delirio, persone azzannate alla gola solo per aver espresso delle perplessità. E tutti a magnificare l'immensa opera del Maestro che, a parere dello scrivente, è solo un film scialbo, volto ad accattivarsi il pubblico servendosi anche di Maradona. Appunto. I cliché. Poi tutta una serie di scene con personaggi che sono maschere, a volte esagerate (come il fidanzato che deve usare il microfono per parlare), il surreale buttato qua e là, un decadente, un disunito, una realtà scadente. Poi la sequela di luoghi comuni della Napoli anni '80. Qualcosa da salvare c'è. La bellissima e sensuale Luisa Ranieri, esemplare di "Femmina" napoletana di quelle che ti fanno cadere la mascella a terra, brava assai e Capuano, il cui intervento (tranne il finale triviale e inutile…ce rutt ò cazz) è, per un gioco del destino, l'esatto giudizio che io darei del regista in questo film: "Stai scadendo nel decorativo, troppi orpelli e zero nuance. Sei autoreferenziale, t'stai sfilacciann…".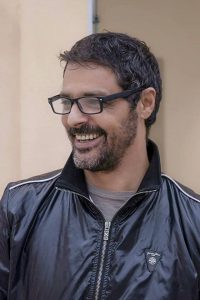 Carlo Marrazza
Leggi la copia digitale de Il Commendatore Magazine.