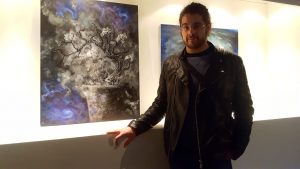 Il realismo come canovaccio da macchiare continuamente; il surrealismo come aspirazione dell'ideale più profondo; il fiabesco cascante nell'horror; l'incubo incantato o l'incanto grondante di mostruosità che traumatizza lo spazio grigio di una metropoli da Stephen King. Giulio Napoletano è tutto questo. Partenopeo di origine (e cilentano acquisito), belga per formazione professionale, sans frontières per genio.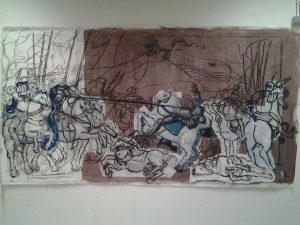 Battaglia di San Romano
Dipinta nel 2016 come omaggio a Paolo Uccello, durante il periodo accademico, definendo così la natura figurativa dei lavori dell'artista nel suo studio della pittura medievale, rende visibile tutto il movimento calcato, fissato per gradi, dei cavalieri in guerra, in bianco e nero, con un po' di colore sparso in "ordine" pop. Fui felice anni fa di affissare come copertina del mio facebook una scena medievale di guerra sognante, cristallizzata in una versione epica, dagli slanci cruciali, ma contraddistinto dalla morbidezza fluttuante di un attuale poster fumettistico. La grandezza, che cerco e desidero trovare ardentemente nelle persone e nelle loro opere, è quella sottilissima separazione tra revisionismo estetico e progressismo tecnico ed intellettuale; fusione finale di sofisticata razionalità e disordinata, allucinata, emotività. Giulio è difficile da rinchiudere in un solo genere, in una semplice qualificazione aggettivale.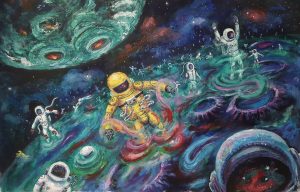 Dream in a gas state. Acrilico e olio su tela, 2021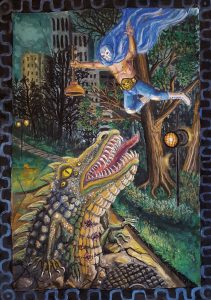 Demonio Azul vs the mutant monster of Central Park NY. Tempera su cartone e carta Fabriano, 2021.
E "Sogno allo stato gassoso" e "Demonio Blu contro il mostro mutante del Central Park di NY" tra le ultime opere dai colori forti, a tratti psichedelici, ne sono un inconfutabile esempio. Le sfumature nella prima rendono leggero e vorticoso il movimento danzante degli irreali astronauti come la risolutezza, anche se fantastica, della seconda, con colori netti e linee chiare, la descrizione di una scena immediata. Quest'ultima appartiene alla serie "Battaglie impossibili" connessa alla cultura dei Luchadores messicani. Il mostro, antagonista/protagonista del quadro, è collegato ad una famosa leggenda metropolitana a proposito di coccodrilli nelle fogne di New York.
Giulio, quando tornerai in Italia e nel nostro Cilento?
"Ritornerò in Italia questa Estate, il 29 Luglio, per organizzare la mia mostra personale al Castello Angioino – Aragonese di Agropoli, recensita dal maestro Antonio Morgese. La mostra aprirà il 3 Agosto".
Racconta il tuo viaggio nella sperimentazione artistica.
"Durante il mio periodo da studente nella Reale Accademia di Anversa ho avuto la possibilità di rapportarmi a numerosi (e tutti differenti) approcci artistici dei miei insegnanti, e quasi tutti parzialmente o totalmente incompatibili con quello che io ho sempre desiderato fare. Per lo più ho cercato autonomamente la mia strada ammirando il lavoro di illustratori, fumettisti e registi cinematografici. Nel contempo ho studiato il lavoro di Antonio Ligabue ed Henry Darger, un outsider artist che è vissuto a Chicago tra l'inizio del XX secolo e gli anni '70. Sono sempre stato alla ricerca di pittori al di fuori delle correnti artistiche; mosche bianche che per me rappresentano il vero senso originario dell'arte. Di conseguenza l'Art Brut, gli outsider artists e il Naif sono terreno fertile per la mia ricerca dello stile grafico".
La scintilla della creazione. Quando? In che circostanza?
"Di notte. Ogni notte. Il mio è un approccio figurativo e narrativo. In effetti, immagino i miei lavori come grosse illustrazioni. Cerco di infondere alle immagini un valore metaforico con personaggi, elementi ambientali e simbologie preesistenti o da me inventate. Credo anche che ogni osservatore debba entrare in questo mondo di immagini per dedurre una propria storia o sentire una personale emozione; quindi tendo a non spiegare tutti i dettagli del processo mentale che ha portato alla creazione di un lavoro. Io semplicemente osservo tutto, leggo e guardo di tutto e lo inglobo nel mio mondo personale. Quello che desidero è creare il seme di una storia dentro chi osserva i miei lavori".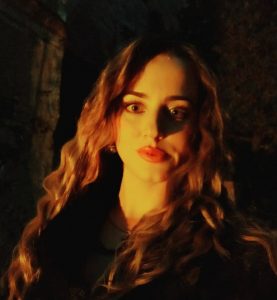 Rachele Siniscalchi Montereale 
Leggi  QUI  la copia digitale de Il Commendatore Magazine.