"What are we going to do with all this Future?" Il SuperPop riparte da ZERO – Intervista ad Alberto Bazzoli & Gianni D'Amato.
Il Neoclassicismo, il Barocco, gli Anni '70, la musica da camera, la Disco Music, i Beatles, il Pop, il Kitsch, l'amore e il sesso, l'ironia a volte sfrontata a volte sottile, tutto questo è SuperPop, il primo progetto discografico di Alberto Bazzoli & Gianni D'Amato, uscito il 16 ottobre 2020 per Interstellar Production. La "track by track" si compone di Love Me, una vera e propria evocazione di un Serge Gainsbourg libertino e libertario, un amore che nella sua ostinata confessione carnale si sublima all'eterno e Monaco, un dissacrante sogno erotico fatto musica che, con cori Rococò, eleva il funky a un vero e proprio atto, anche fisico, d'amore. I due singoli sono incorniciati da una "pretenziosa" introduzione, l'Inno alla Gioia di Ludwig Van Beethoven e da un'inaspettata e benedetta coda strumentale, figlia della chamber music. L'input sonoro costantemente in movimento rende l'ascoltatore disarmato di fronte alla genialità frivola e mantrica di un disco iper raffinato e dall'immaginario esteticamente forte. Lo scorso 25 Dicembre è uscito Zero, il loro nuovo singolo. In questo brano si indaga il terzo grande tema dell'Arte, il Sacro, con un omaggio alla più grande star di tutti i tempi: la figura di Cristo che, riletta in chiave moderna, riflette la miseria dell'uomo senza punti di riferimento. Sul piano musicale ci si apre a sonorità nuove, più elettroniche, rispetto all'esperienza precedente, con muri di synth e autotune. Sono chiari i riferimenti al western di Morricone e al sound delle orchestre da film. Zero è sicuramente un sonoro fulmine a ciel sereno. Non spaventatevi.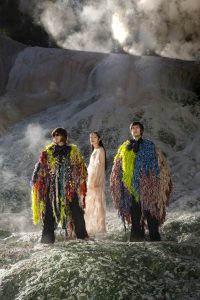 Cos'è per voi il SuperPop? Pensate di aver creato un nuovo genere musicale?
"Diciamo che abbiamo deciso di usare il titolo dell'album anche per descrivere il nostro fanta-genere. Il termine in realtà descrive bene l'estetica del disco, che vuole cibarsi di elementi iconici, citazioni, mainstream, evergreens e simili".
SuperPop è un disco con un surrealismo visivo e musicale che inizialmente potrebbe disorientare l'ascoltatore. Parlateci di come è stato pensato e sviluppato.
"SuperPop ha per noi il compito di comunicare agli altri le radici culturali e musicali da cui proveniamo. Da subito abbiamo pensato che il modo migliore per esprimere il nostro mondo era quello di legare la nostra musica alle immagini. Tra queste ovviamente sarà chiaro il riferimento a Magritte nel video di Love Me e il canone rinascimentale michelangiolesco in Monaco. Capiamo che possa disorientare, ma il disco svolge una funzione di manifesto in grado di consegnare al pubblico la nostra idea di bellezza artistica".
Cosa vi ha spinto ad inserire nell'EP un colosso come Beethoven?
"La motivazione più frivola è perché suonava bene. Ovviamente nella sua banalità questo significa tante cose, a partire dal fatto di voler inserire come elemento musicale caratteristico la musica classica. Musica classica intesa come suono, eleganza, iconicità".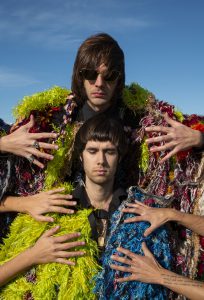 Parlateci degli altri tre brani (Love me, Monaco e A.B.) e, se c'è, del loro "storytelling".
"Gli argomenti mainstream della musica sono l'amore e il divertimento, in questo caso Love me e Monaco ne sono un voluto esempio. Love me vuole parlare d'amore nel linguaggio dell'amore, in modo universale, semplice, profondo, banale. Monaco ha come soggetto invece la vita onirica di Monaco-Montecarlo, con i suoi sogni, stranezze, comportamenti fuori dalle righe. A.B. da un senso di ring composition al tutto. Ci rimanda alla sonorità del quartetto d'archi dell'intro e ci porta a pensare che le poche certezze a cui ci eravamo appigliati durante l'ascolto nei brani precedenti forse non sono cosi solide".
Passiamo a Zero, nel ritornello riecheggia l'aforisma dell'artista spagnola Coco Capitán "Cosa ne faremo di tutto questo futuro?". A voi la risposta…
"È una bella domanda! Sicuramente a livello culturale, che è quello di cui parliamo, il futuro dell'uomo, se non cambia abitudini, non sarà roseo. Il completo annientamento di ogni pensiero metafisico rende l'esistenza umana di poco significato. Per metafisico intendo ogni pensiero o interesse extra materia. Siamo così poveri di sogni, cultura, ideali e arte che ritorneremo alle scimmie. Citando la canzone, aspettiamo con trepidazione l'arrivo di nuove comete".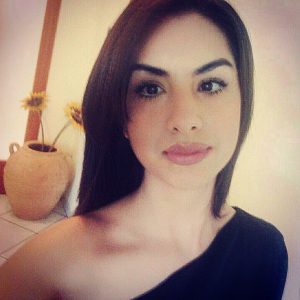 Mariangela Maio